Eat OUT for a month WHAT???  Oh wait it is Eat IN for a month…yes you heard me right:)
I have to admit I was a bit hesitant to do this challenge, but then hubby and I decided to go for it!  I travel for work, so I will be getting creative this month.
Thank you to the lovely Diana, she has laid out all the details so beautifully.   Check them out at TheChicLife or you can click on this pretty badge.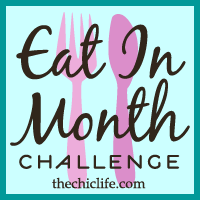 It really is not hard to enjoy meals in the comfort of your own home.  In reality, you can get food so much cheaper, and so much healthier than at a restaurant.
Have fun recreating dishes you love at your local restaurant.  For hubby and I, tonight we enjoyed a "Big Salad" as Elaine from Seinfeld would say.  We are new to North Carolina, so I am still learning about favorite restaurants here.  Back in Tucson there was a brewery called Gentle Ben's, they had such delicious food. There was a salad there called "The Rachael," it had feta cheese, craisins, and pecans.  The ingredients were put on a bed of mixed greens, and topped with a vinaigrette.  So tonight I decided to change it up a bit, but with that salad in mind.  I cut up a Bartlett pear, and put it on a bed of lettuce with pecans, feta cheese, and a vinaigrette.
Hubby had a veggie salad, and had some chicken on the side.
AND of course dinner is never complete until you have a fun dessert.  I was having trouble getting my cookies to come out.  They are always flat….WELL…check these pretty little cookies out!
Really when you think about it, you get an appetizer, meal, dessert, and drinks at a restaurant….whew, that all really puts a huge dent on your wallet!  If you're eating in instead, think of all the fun meals you can make and ALL the money you can save, SCORE!
I will share some of my meals with you, along with other fun goodies I will be making….
Stay tuned for my next Greek yogurt recipe, it turned out beautiful:)
SO who is in with me? Let's Eat In for a month together!
Until next time, Come on in, Have a seat,
Hugs, Terra