This is definitely a special holiday recipe, and a perfect breakfast or snack option! Baked oatmeal is fun, easy to make, and so versatile.  In my household we always have leftover cranberry sauce, probably because I make extra!  With egg nog it is a must to have extra.  So, to use up some of your leftovers, let's whip up a batch of Baked Cranberry Sauce and Egg Nog Oatmeal!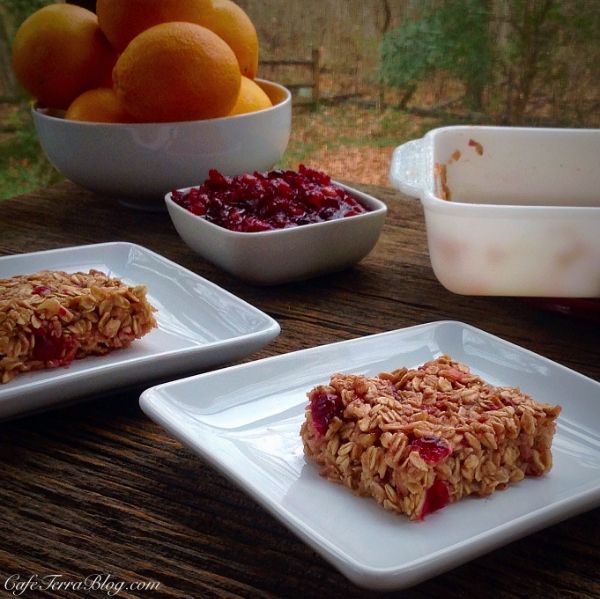 After the holidays when egg nog is gone from the shelves, and cranberries are only found dried, you could easily alter the recipe and use milk instead of egg nog.  Instead of cranberry sauce, you could use puréed fruit, and just add some nuts.  So really, this recipe could be enjoyed all year long!
The recipe for the cranberry sauce comes from my Grandma.  I call it Gram's World Famous Cranberry Sauce…it is THAT good!  Here is the recipe for her Cranberry Sauce, with a few other variations.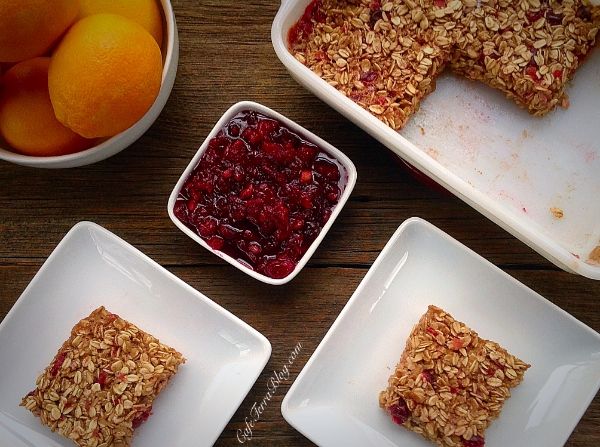 The recipe has been taste tested by my family, and definitely approved.  We may just need to make more this week, thank goodness I bought five bags of cranberries last week.  Here are a couple other recipes using cranberries: Pumpkin Pie and Cranberry Sauce Sweet Bread, Cranberry Apple Martini with Crystal Head Vodka.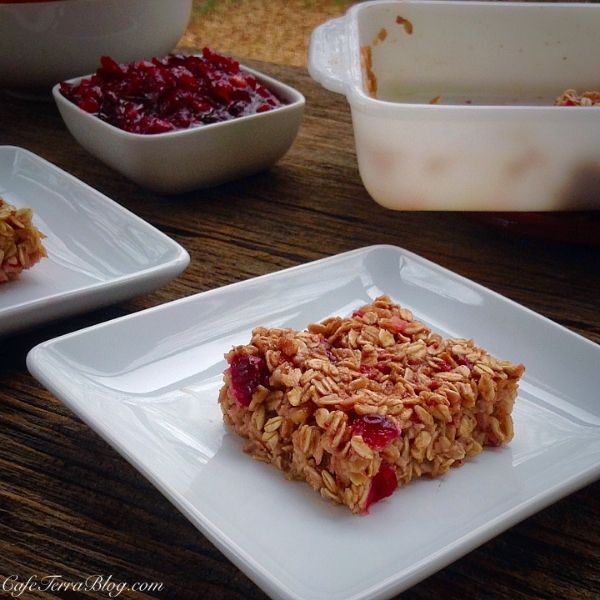 Terra Baltosiewich
Yields 6-8
Baked Cranberry Sauce & Egg Nog Oatmeal
10 minPrep Time
20 minCook Time
30 minTotal Time
Ingredients
1 egg
1 1/2 cups egg nog (I used So Delicious coconut milk egg nog)
2 cups old fashioned oats
1/3 cup brown sugar
1 tsp vanilla extract
1/4 tsp salt
1 tsp cinnamon
1/8 tsp nutmeg
Heaping 1/2 cup cranberry sauce
Instructions
Preheat oven to 350 degrees F. Spray 9 x 9 pan with cooking spray.
In medium bowl, mix together egg, egg nog, brown sugar, vanilla extract, salt, cinnamon, nutmeg, and cranberry sauce. Then add oats, and stir together well.
Add oatmeal mixture to prepared pan, bake for 20 minutes depending on oven, (should look dried around edges, and slightly golden brown.)
Enjoy!
7.6.2
462
http://www.cafeterrablog.com/2014/12/22/baked-cranberry-sauce-egg-nog-oatmeal/