Okay, one more cranberry recipe before the holiday season disappears.  This recipe shares all the flavors of a spice cake, but with just a bit less spice. The spice in this recipe comes from the delicious flavors in the coconut milk egg nog.  The cranberry sauce recipe includes oranges, walnuts, brandy, and sugar.  Bringing all these flavors together created a fun and fabulous cake.  Who wants a slice of Cranberry Spice Cake?
After I pulled the bread out of the oven.  The debate was, glaze or no glaze?  Well everyone screamed, "glaze, of course!" Silly me, what was I thinking?  For the glaze, I added some of the cranberry sauce liquid and coconut milk egg nog.  The glaze is like the last item in the recipe, that brought all the flavors together to create the perfect bite!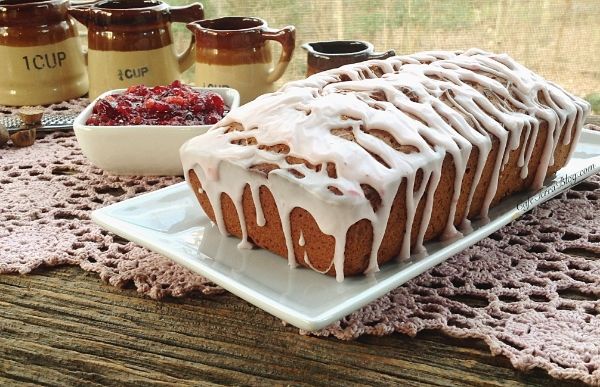 Since the holiday season is almost over, that means no more fresh cranberries.  I did grab extra and froze some.  I may make a random cranberry treat in the Summer just because I can.  Since we won't have fresh cranberries, this recipe can be easily altered.  Instead of cranberry sauce, you could use jam that includes big chunks of fruit.  Instead of egg nog, you could use heavy cream or milk.  To get the spice, add some allspice to the recipe, (maybe a teaspoon.) There is always a way to alter a delicious recipe.  Don't let the absence of the holiday season stop you from making a fun recipe!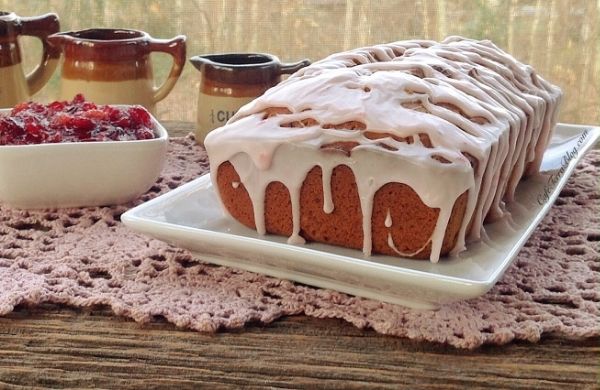 Here are a few other cranberry recipes: Baked Cranberry Sauce Egg Nog Oatmeal, Homemade Quinoa Granola.  Here is Gram's World Famous Cranberry Sauce recipe, that is used in the spice cake.
Terra Baltosiewich
Yields 8-12
Cranberry Spice Cake
15 minPrep Time
55 minCook Time
1 hr, 10 Total Time
Ingredients
1/2 cup (I stick) salted butter, melted
1/2 cup sugar
1 egg
1 cup cranberry sauce
1/2 cup coconut milk egg nog (+ 1 Tbsp to loosen batter.)
1 tsp baking soda
1 tsp baking powder
1 tsp salt
1 tsp vanilla
1/2 tsp cinnamon
2 cups all-purpose flour
For glaze:

2 cups powdered sugar
6-8 Tbsp coconut milk egg nog
2-4 Tbsp cranberry sauce liquid
Instructions
Preheat oven to 350 degrees F. Spray bread pan with cooking spray.
Melt butter on medium heat, let cool.
In medium bowl, mix together melted butter, sugar, egg, cranberry sauce, egg nog, and vanilla.
In small bowl, mix together flour, baking soda, baking powder, salt, and cinnamon.
Mix wet and dry ingredients together. You may need the extra tablespoon of egg nog to loosen batter.
Pour batter in prepared bread pan, and bake for 45-55 minutes depending on oven.
Bring out of bread pan, and let cool on rack.
For the Glaze: In small bowl, mix together powdered sugar, cranberry sauce liquid, and coconut milk egg nog. Drizzle over cake and let sit, to harden the glaze.
Enjoy!
7.6.2
383
http://www.cafeterrablog.com/2014/12/29/cranberry-spice-cake/