These muffins are the very definition of boozy, and include a perfect flavor combination.  At first, these little morsels were going to be a fun traveling snack.  Instead, it may be a better snack to enjoy in the comfort of your home.  The tart flavors of cranberry mix with the orange liquor, and gluten-free flours perfectly.  Let's safely enjoy a few Boozy Gluten-Free Cranberry Orange Muffins!
Since I can only enjoy whole wheat or gluten-free flours, this year I plan to explore gluten-free baking more. You will find some gluten-free recipes I have shared over the years.  I enjoy the challenge of baking with all the different flours.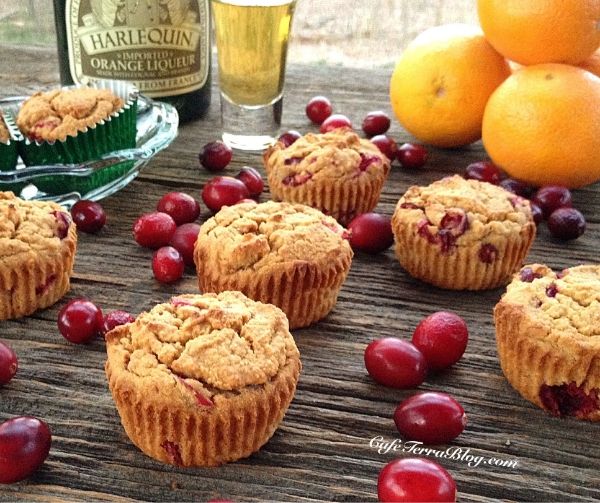 This recipe uses fresh cranberries, but you could easily soak dried cranberries in the orange liquor to plump them up. I actually stocked my freezer over the holidays with fresh cranberries. Now I can enjoy them longer than three months!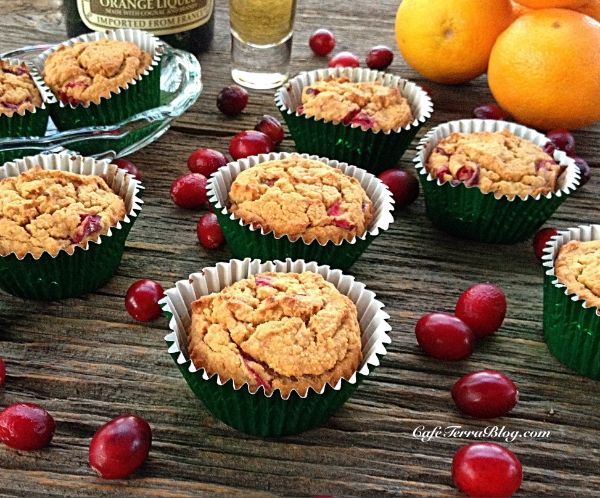 The inspiration for this recipe was from a cookbook I will be reviewing for you.  I had to change around the recipe to make it boozy, and due to the ingredients I had available.  Look forward to a five star review for the book, The Complete Coconut Cookbook by Camilla V. Saulsbury.
.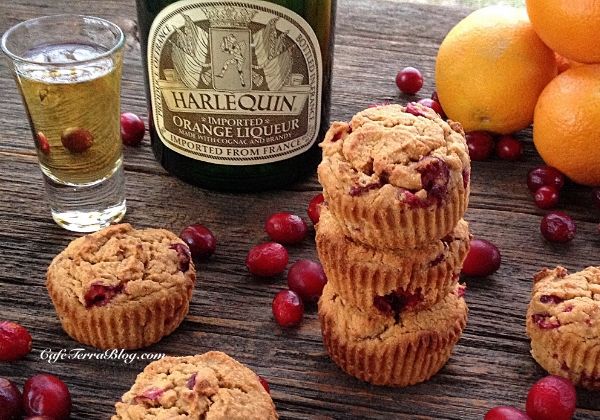 Terra Baltosiewich
Yields 10
Boozy Gluten-Free Cranberry Orange Muffins
10 minPrep Time
30 minCook Time
40 minTotal Time
Ingredients
1/2 cup chickpea flour
1/3 cup coconut flour
1/2 cup banana, mashed (or a medium banana)
1 tsp gluten-free baking powder
1/2 tsp salt
1/3 cup coconut sugar
1/2 cup orange liquor (or orange juice)
1/2 cup coconut milk
3/4 cup fresh cranberries, chopped (or dried cranberries soaked in orange liquor)
Instructions
Preheat oven to 350 degrees F. Spray regular size muffin pan with coconut oil spray, or use muffin cups in pan.
In medium bowl, mix together mashed banana, coconut sugar, orange liquor, and coconut milk.
In small bowl, mix together chickpea flour, coconut flour, baking powder, and salt.
Mix wet and dry ingredients together and whisk together, then fold in cranberries.
Fill muffin cups 3/4 full, bake for 25-30 minutes depending on your oven.
Note: the muffins will still seem doughy after 25-30 minutes of baking. Let them cool, and they will look like a perfect moist muffin.
Enjoy!
7.6.2
463
http://www.cafeterrablog.com/2015/01/08/boozy-gluten-free-cranberry-orange-muffins/